Barrow Valuation Group is a boutique organization focused on providing real estate solutions for often complex and unique assignments, as needed by public and private sector clients. Our approach to each assignment is to provide expedient service while maintaining a consistent and exceptional product that exceeds industry standards, at a competitive fee.
Our clients include mortgage lenders, financial institutions, attorneys, government agencies, developers, investors, corporations and private consumers.
In the pursuit of maintaining an outstanding level of service, Barrow Valuation Group has access to comprehensive market data sources and research capabilities. We incorporate a rigorous internal review process to guarantee the accuracy and reliability of our conclusions.
We adhere to the requirements and guidelines of the Financial Institutions Reform Recovery and Enforcement Act (FIRREA), and the Uniform Standards of Professional Appraisal Practice (USPAP). At the core of our organization, we strive to exceed those expectations by maintaining the standards and continuing education requirements of The Appraisal Institute and the Royal Institute of Chartered Surveyors.
Michael Barrow, MAI, MRICS is the founder and managing director of Barrow Valuation Group. He was awarded the prestigious MAI designation by the Appraisal Institute in March 2002, and launched his Atlanta office later that year under the umbrella of Commercial Valuation Services, Inc. (CVS). In 2016, Michael launched his rebranded company with his own namesake, Barrow Valuation Group. This new chapter for the organization refocused its mission, fostering adaptive valuation solutions in an ever-changing environment. In January 2017, Michael was awarded the MRICS designation by the Royal Institute of Chartered Surveyors. He holds Certified General Real Property Appraiser licenses in the States of Georgia and Florida.
Michael has worked diligently to develop an outstanding reputation in the Atlanta region for clients such as Cadence Bank, First Citizens Bank, Georgia Banking Company, Georgia Primary Bank, Regions Bank, Truist Bank (formerly BB&T), Walmart, and Wells Fargo. Under Michael's leadership, his office has been named four times in the list of "Atlanta's 20 Largest Commercial Real Estate Appraisers," published by the Atlanta Business Chronicle. In 2017, Michael launched a satellite office in Miami, Florida. With 34 years of commercial real property valuation experience, Michael Barrow has been involved in the valuation of assets that total in excess of $7 billion.
Multifamily & Mixed-Use Developments
SOBE Apartments – Miami Beach, FL

One City Walk – Metro Atlanta, GA

Lofts at Navicent – Macon, GA

Bowman Station – Macon, GA

Mercer Lofts V – Macon, GA

The Heights at Sugarloaf – Metro Atlanta, GA

The Legends at Chatham – Savannah, GA
Educational Facilities
Pineview Preeschools, Douglas Campus – Miami, FL

Savannah College of Art & Design (SCAD) – Atlanta, GA

Kings Ridge Christian School – Metro Atlanta, GA 

The Howard School – Atlanta, GA

Atlanta International School – Atlanta, GA

Young Harris College Dormitory – Young Harris, GA
Religious Facilities
Big Bethel AME Church – Atlanta, GA

Mount Paran Church of God – Atlanta, GA

St. Philip AME Church – Atlanta, GA

Zion Baptist Church – Marietta, GA

Peachtree Corners Baptist Church – Peachtree Corners, GA
Regional Malls & Retail Centers
Riverstone Shoppes at Parkland – Parkland, FL

Canton Exchange (Hobby Lobby, Pet Supermarket) – Metro Atlanta, GA

Shops at Metropolis (Orange Theory) – Midtown Atlanta, GA

The Shoppes at Locust Grove (Publix) – Metro Atlanta, GA

The Shoppes at Birmingham Village (Publix) – Metro Atlanta, GA

Tanglewood Mall (Belk, JC Penney) – Roanoke, VA
Professional/Medical Office Buildings
Multi-tenant Medical/Surgery Center (Georgia Bone & Joint) – Cartersville, GA

Medical/Surgery Center (Marietta Eye Clinic) – Marietta, GA

Medical/Surgery Center (Longstreet Clinic Highpoint Medical Campus) – Braselton, GA

Medical Office (Northside Hospital Affiliate) – Johns Creek, GA

Lake Ridge Technology Center – Smyrna, GA
Self-Storage Facilities
Storage World Facilities – Decatur/Jonesboro/Stockbridge, GA

Eagle Self-Storage – Locust Grove, GA

Star Self-Storage – Cumming, GA

Your Extra Attic – Alpharetta, GA

CubeSmart Self-Storage – Ellenwood, GA

Top Storage – Riverdale, GA
Industrial/Distribution
Miami Star Truck Parts Headquarters – Hialeah Gardens, FL

Braselton Distribution Center (432,000 SF) – Braselton, GA

Doosan Infracore/Bobcat Center (170,000 SF) – Suwanee, GA

Former Caterpillar Facility Reposition (320,000 SF) – Shannon, GA

Seco Truck Terminal (101,000 SF) – Ellenwood, GA

Former TDK Facility (271,000 SF) – Peachtree City, GA

Walmart Distribution Facility (304,000 SF) – Statesboro, GA
PROFESSIONAL DESIGNATIONS & LICENSES
Michael D. Barrow, MAI, MRICS
Georgia Certified General Real Estate Appraiser CG256304
Florida Certified General Real Estate Appraiser RZ3906
Appraisal Institute
Membership No. 11901
Royal Institute of Chartered Surveyors
Membership No. 6729807
Professional Qualifications
& Corporate Profile
COVERAGE AREA
Our primary coverage areas include the Metropolitan Areas of Atlanta and Miami. Secondary coverage extends throughout the Southeastern U.S.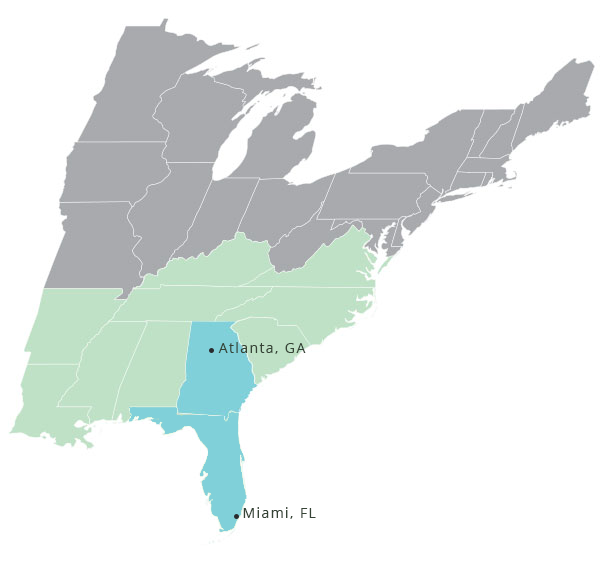 ATLANTA
1175 Peachtree Street NE, 10th Floor, Suite 1000 | Atlanta, GA 30361
T +1 404 665 1900 | F +1 404 665 1909
MIAMI
1900 N Bayshore Drive, Suite 1A, #119 | Miami, FL 33132
T +1 305 351 4042 | F +1 305 351 4043
[email protected]
1175 Peachtree Street NE, 10th Floor, Suite 1000
Atlanta, GA 30361
T +1 404.665.1900 | D +1 404.665.1901
F +1 404.665.1909